Trip Report for Rattlesnake Ledge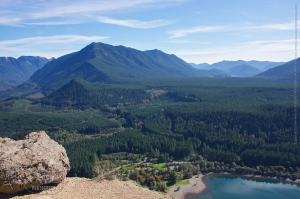 Where: Snoqualmie Pass
When: Thursday, October 9, 2014
Stats: 4.0 miles round trip – 1,160 foot elevation gain
It's not often that I make a return trip to a place I've previously visited, at least not as soon as a couple of months later. Back in June, though, when we visited Rattlesnake Ledge I mentioned possibly returning in October when the leaves would be turning and the people less tightly packed. Betwixt then and now (well, about three weeks ago) we went from talking idly and actually made the plans to do so. I added a new wrinkle this time around, though. This time I listed the trip on a Meetup.com group to see if I could get some new folks to come along. In that I had some success.
Come the morning of the ninth I made my way out to the park, thankfully this time without almost running over a bear. Parking was far easier than the last time with a whole lot less cars and people around the parking lot. Over at the spot that I had designated as the meeting spot I was quickly joined by three of the other folks who had signed up for the excursion. We waited around for about half an hour to see if anyone else showed up because there were quite a few more who had signed up to come along. Alas, no one else did. We finally headed up on the trail at 10:30.
The day had started out quite cool and cloudy, but as we ascended the trail sky cleared marvelously and the temperature went up. Rattlesnake is an easy trail and a nice day like this one makes for a pleasant outing. We made good time on the way up, mostly being passed by other hikers. The two women with us were new hikers and the other man was minimally experienced, so it definitely fell to me to hold the group together. Interestingly they all expected me to be their guide, which I definitely wasn't prepared for. In the future that's something I'll think more about ahead of time. Fortunately the two women in the group were chatterboxes since I am relatively taciturn by nature and don't do well trying to converse with strangers.
Once we were up at the top we spent some time taking in the sights and generally relaxing. The chipmunks were fairly active, charging around, looking for hand outs. Being out with folks I didn't know well I hadn't prepared for what Justin and I had talked about doing up there, namely bringing a book and reading for a spell. Ah well, next time.
After a bit we headed back down the trail and arrived back at the parking lot in relatively short order. We decided to head in to North Bend afterward for a bit of socialization at a local café named the Pioneer Coffee Roasting Company. The food and beverages were fantastic, as was the conversation. Interestingly enough all four of us were within a few years of my age or older, all of us were divorced, and everyone but me had a child from a previous relationship. It was a good group and I'm glad I had a chance to meet them. I'll definitely be putting together another one of these meetups in the future. Personal growth is good, right?