Trip Report for Mount Pilchuck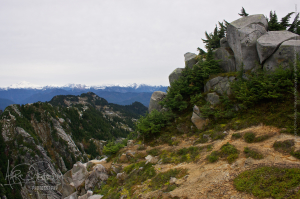 Where: North Cascades – Mountain Loop Highway
When: Friday, October 24, 2014
Stats: 5.4 miles round trip – 2,200 foot elevation gain
When we set the date for this hike back in August we had no way to predict what the weather would be like. Late October in western Washington? Anything was possible. As the time approached and the rain set in it began to look like we might be making our ascent in some pretty treacherous conditions. Then the final days ticked away and it looked like we would have the one, non-raining day, in the midst of solid weeks of precipitation. Pretty lucky, nyet?
As has been the case pretty often this year we met up at my place before heading north and east for the trail. The drive was pretty quick and easy, thanks to us heading the opposite direction of the morning traffic. Everyone else was intent in heading toward Everett and Seattle, while we were making haste away from them. Lake Stevens has been built up even more since the last time I was out that way, while Granite Falls remains pretty much the same. We passed through quickly and rolled on up Mountain Loop Highway, into Mount Baker-Snoqualmie National Forest. Once off the highway and on to a Forest Service road we saw a couple of ravens, including one feasting on the offal of what looked like a deer.
The parking lot at the trailhead provided wonderful views of the valley below, and we took our time getting ourselves together before hitting the trail. For me this was my first time trying to hike with a pair of trekking poles rather than a single hiking staff. I greatly prefer a wooden staff for a number of reasons, but according to research I had been doing, using paired trekking poles should be much better for my knees on the downhills. Based on how I felt afterward I think they may have done the trick.
On the trail we found ourselves hiking for a little ways in the bed of an impromptu stream, probably the result of all the rain fall in the previous days. A short ways up we crossed from the National Forest into Mount Pilchuck State Park. A little bit later we climbed out of the stream and proceeded up the trail. It was easy to see that this is a frequently climbed trail, based on the amount of work that has been done to make it accessible and easily climbed. I can't think of any other trail I've been on this year that had so many sections with log "stairs" built in to them. In drier conditions this would have been absolutely fantastic. In these wet ones those sections of logs became quite slippery. On the other hand I'm sure they did a lot to prevent erosion, so I'm certainly not sad they were there.
As we hiked we reveled in the cool temperatures and and fresh air that the day had brought to us. Though the sun was in abeyance and blue was not to be seen I really liked the feel of the high, bright overcast. While the colors were muted and the contrast reduced there was a wonderful softness and clarity to everything we saw. Like a burlesque dancer's performance each passing moment parted one cloud bank or another, allowing us glimpses of first one distant peak and then another. The few times we saw Rainier stand forth were more special for their rarity, while each time that Baker or Shuksan or Glacier showed a new face or aspect we experienced discovery anew.
As the trail climbed we gradually transitioned from typical boreal forests to rocky slopes, at times having nothing beneath our boots but great tumbles of boulders. One really interesting formation that we observed were rocks that looked like volcanoes in miniature. Sadly I didn't take any pictures of them. At first we saw just one and thought it was some chance occurrence. Then we saw more and more and I realized that what we were seeing was a result of where explosive charges had been set to create the trail upward. In a way this origin of them makes their chance resemblance to our local geology even more special.
As we neared the top we came across remnants of previous engineering works, including the base of an old tower (probably a part of the heliograph that once adorned the peak), some large pulleys stapled into the rocks, and the scrap-yard remains of some old, wooden structure. Further up we found ourselves entering a damper elevation, which made it really lucky that I had not one but two pairs of gloves in my pack. Justin definitely needs to get some gloves for himself. Actually, I think Justin needs some warmer hiking gear all around. It's funny how often our different reactions to heat and cold are a topic of trail conversation.
Just below the summit we got the final boulder pile upon which perched the observation tower. It was more climbing than I expected we would have to do, and I shudder to think what it would have been like to try to climb the final, metal-runged ladder, in the rain or snow. Never the less we made it up into the tower and worked on warming up a bit. One other guy who was there had made the climb in shorts and had his sweater wrapped around his dog. We were definitely better prepared than he! We spent the next stretch of time taking in the views and enjoying the unencumbered sight lines off in all directions. By this time Rainier was firmly be-clouded while Baker and Glacier were at their clearest. We read up in the history of the place, used the signs to identify the peaks we had been seeing, and generally rested up before our return trip.
After a while we made our way back down, making, as always, better time descending than we had ascending. Eventually we reached the car once more and made our way back out of the mountains. We stopped at a teriyaki place in Lake Stevens for dinner and used that time to set some dates for the rest of the off-season hikes. From there we returned home and ended the day.
I was telling someone recently that, before living here and even after I moved out to these parts, I was not a fan of the rain. Grey days were no cause for celebration. Over the ten years I've lived here, though, that has changed and I've come to treasure them. Yes, I want to go back to Pilchuck on a day when I can see the sun set and the stars come out, but I'm grateful that my first experience of this place was painted by the climate I've come to love.