Trip Report for Rampart Ridge
Where: Mount Rainier National Park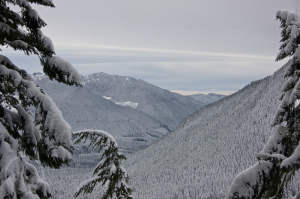 When: Saturday, December 26, 2015
Stats: 4.85 miles round trip – 1,300 foot elevation gain
For my last hike of 2015 I chose to visit the Longmire area of Mount Rainier National Park, and to do so with snowshoes. This was the third time in as many months (and in my whole life) that I've tried that, and I doubt very much that it will be the last. This was the first time that I really got to do a whole trail in what I would call "snowshoe conditions", which was awfully exciting! Speaking of firsts, this was my first trip to Mount Rainier National Park in the winter, and I hope to be back again really soon. It is gorgeous!
As I said at the start, the part of the Park I visited is called Longmire. It's one of the most popular destinations in the Park, and has a collection of historical buildings and attractions. It's also the jumping off point for many trails, including being one of the three main access points for the Wonderland Trail. On this particular day Longmire was my destination because of the trail I wanted to hike, and because the road up to Paradise was closed just beyond!
As one might expect of a snowy Saturday immediately after Christmas, there were a few other people who wanted to get out and experience the Park in a similar fashion to myself. My first indication of this was on Wednesday when I called REI to rent a pair of snowshoes and almost wasn't able to do so. Luckily they found a pair I could pick up Saturday morning, which did mean getting a later start than I otherwise would have planned for. This was compounded by getting to REI a little after 9:00 and finding a long line of folks at the rental counter, all picking up gear for the day. As things worked out I ended up getting my snowshoes and hitting the road by about 10:00.
My next experience of "sit and wait" was when I arrived at the Nisqually entrance to the Park. For those who don't know, Nisqually sits on the southern side of the Park and is the principal entrance there, granting access, as it does, to Longmire and Paradise. At the entrance I spoke to a nice ranger who was telling everyone that the Longmire lot was at capacity, and that they'd be letting in one car for each one that left. By the time I got through that queue it was getting near to 1:00. Luckily the sun stays up till late in the day at this time of year. Oh, wait, no…
After circling the parking lot a few times, hunting for the promised space, and getting mobbed by Gray Jays, I found a spot to put my vehicle and was able to strap on my shoes and get moving.
The first leg of the Rampart Ridge hike begins on the Trail of the Shadows walk, which is a short and easy loop trail right next to Longmire. Knowing that it's a nature walk I feel confident that there were signs talking about the various species of trees and shrubs. I imagine that they were quite informative, but for the three feet of snow on top of them. As it was I was only on this trail for a small portion of a mile before the Rampart Ridge trail broke off and up to the left.
Separated from the nature walk and the hordes of small children dragging sleds and toboggans along its gently rolling hills, my trail began climbing immediately. Ahead of me stretched a mile and a half of sweeping switchbacks, climbing steadily through old growth forest and along burbling streams, heard but not seen beneath the snow. Between the extra weight of the snowshoes, the greater difficulty of walking in them, and the cold, thin air, it was a lung-straining climb, but one with near-infinite rewards for the senses. The scent of evergreen needles and sap contested with that elusive, yet clean and invigorating, smell of snow. Each step echoed the crunches of my feet on the compacted snow of the trail. Most remarkable was the way my mind adapted to the colors I was surrounded by. The overcast of the sky and the white blanket of snow combined to blank out the usual riot of colors in the wilderness, leaving hints and accents that were so much stronger as a result. Green and brown become very powerful when they are the only colors in the palette besides grey and white.
Here and there along the trail, the higher I climbed, views would open up, creating opportunities to gaze down along tree-crowded valleys or up at craggy peaks. Framed by laden boughs, it was like walking through an art gallery or museum where you never knew when a scene would suddenly be presented for your study, each moment a masterpiece.
Finally done with the switchbacks the gentle grade of Rampart Ridge itself stretched ahead of me for a mile or so. A small spur (fifty paces or so) lead to a minor viewpoint which, while attractive, was not spectacularly more interesting than any that had graced the trail to that point. It was a chance to look down on Longmire's buildings from above, though, and brought a return of some inquisitive Gray Jays.
Quickly done with that scene I ambled on along the Ridge. Up until this point there had been a fair number of other people passed along the trail, and I had been leapfrogging with a father and daughter. From this point onward I would have the trail largely to myself, introducing elements of wilderness and solitude that had been mostly lacking up until now. I suspect earlier in the day there would have been more people doing the additional three miles of the loop, but as sunset was only 90 minutes off most elected to turn back here and descend the way they had come. Ever lacking in the sense to make choices like this, and always willing to push just a little past the point of wisdom, I elected to continue on, racing against the dying of the light and trusting in my preparedness to carry me through.
This portion of the trail was really nice, being as well-groomed as that which had preceded it, but entirely more gentle of grade and less crowded of hikers. I was able to stretch out my legs and make good time, stopping here and there to take photos and enjoy my surroundings. As the guidebook promised I encountered occasional clearings, though I missed out on the views of Rainier himself, at least for the most part. There were times when I could see the faintest details of The Mountain rising into the clouds, more hinted at than seen outright.
There were a few times that I had to guess a little at the trail, not because it disappeared, but because enough people had gone off-trail to create ambiguity. Fortunately I never went much wrong and was able to keep on the necessary route. The one spot where I could have gone very badly wrong was in the last section of the trail where one direction would have returned me to the trailhead, and a wrong turn would have sent me off along Wonderland into the wilderness. Fortunately I guessed/chose correctly and kept on the way I needed to. The moral of the story, children, is always read the guidebook carefully and memorize the map before setting out. Also carry the guidebook and map with you for when your memory fails or bids fair to betray you.
From the juncture the trail plunged quickly down. There were few switchbacks necessary due to the terrain and distance allowing a straighter shot back toward Longmire, but there was steepness aplenty. It was along this stretch that I discovered how ill-fitting snowshoes, or bindings that aren't very well-designed for downhill, can lead to fatigue and pain in the feet. Let's just say that, when it comes time to buying my own snowshoes, I'll be shopping very carefully and putting this experience to good use. Also I won't buy the kind of snowshoes that I rented. Oi! Those bindings…
Had I been willing to take my time and take things slower this might not have been as much of an issue, but the reality was that I hit Wonderland right about sunset, and for the next mile and a half was rapidly loosing light. As I result I got some practical experience in running down-mountain, in snowshoes. For that matter I also got some practical experience with tripping over a hidden log and face-planting into a snow bank while wearing snowshoes. Brrr.
Right about the time when I was seriously considering breaking out my headlamp I suddenly found myself staring at the road, and therefore the last leg of my trek. Exhaustion warred with elation and I stumbled on back to the parking lot and my car, the crampons of my snowshoes clacking and cracking on the roadway beneath a thin layer of snow and ice. At my car loosened bootlaces and a thermos full of a quart of steaming hot chocolate greeted me, and in a darkness shrouded winter-scape I drove out of the mountains.
At the worst of times our mountains and forests are places of magic and challenge and discovery. At the best of times they are sacred spaces allowing transcendence to happen. A snowy-shrouded winter in Mount Rainier National Park is most definitely one of the latter, and any time that passes before I immerse myself there again will be too long.